Quite a few of us have been looking forward to the new waterpark at LegoLand, Florida. Now we have an opening date.
LegoLand opened its Florida park last October, on the land that used to be Cyprus Gardens in Winter Haven. We recently had the opportunity to tour the facilities and we will have a complete review here at CP soon.
LegoLand announced today that they will have several new attractions opening soon at the park. One of the most interesting ones (for us parents, at least) is a live show with a fireman theme. According to LegoLand, the show will be called 'The Big Test'. The show will include teaching children what to do in the event of a fire, such as calling 911 and the 'stop, drop, and roll' drill. The show is sponsored by The National Fire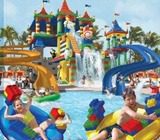 Protective Association and launches February 23, 2012.
Several other attractions will be opening in March, including the highly anticipated waterpark section of LegoLand, Florida. The waterpark will have something unique to Florida attractions – kids will be able to make their own floating rafts out of soft Lego bricks, then float down a lazy river. There will also be a tube slide, a body slide, and an interactive water play structure (think fountains, water falls, water cannons, water slides and the like). The waterpark is scheduled to open March 26, 2012.
The waterpark is a major expansion of their current facilities. There will be an added cost to visit the waterpark. For daily tickets (which run $65 to $75), visitors will have to toss in an extra $12 per ticket to have access to the waterpark.