Lenovo is garnering plenty of attention at this year's Consumer Electronics Show (CES), much of it even before the show officially starts (today).
On Sunday we took a look at their new voice controlled, Android 4, smart TV. Today we'll take a look at another product they just announced while at CES, the IdeaTab S2-10.
The Lenova IdeaTab S2 addresses an issue that we have all noticed with tablets as they have gained popularity. Tablets are very handy, easy-to-use, easy to carry around, and great for games, apps, and entertainment. But getting real work done on them? That can be challenging.
This is where a new breed of tablets is starting to make inroads. Tablets that 'transform' into laptops.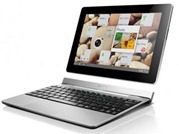 The Lenova IdeaTab S2 is one of these new transformable tablets, joining the likes of the Asus Transformer and Transformer Prime.
Alone as a tablet, it features a 10.1 inch touchscreen, has a Snapdragon MSM 8960 dual-core processor, 1 GB of RAM, a 5 megapixel rear camera and a 1.3 megapixel front camera, and will come in 16 GB, 32 GB, and 64 GB versions. It's Wi-Fi and 3G capable and runs the new Android 4.0 (Ice Cream Sandwich). The tablet is thin, just .34 inches, and lightweight, 1.3 pounds. According to Lenova, the IdeaTab S2 can run up to nine hours on battery.
With its optional keyboard docking station, the tablet transforms into a laptop. The keyboard has a second battery, and the combined unit is reported to have up to 20 hours of battery time. The keyboard is full-sized, it includes a touchpad, two USB ports and a storage card reader.
According to Mashable, the docking station will cost $200. But at this point Lenovo has not announced the pricing for the actual tablet. The Chinese-based company did say the IdeaTab S2 will be launched in China first, and will have its international launch later in 2012.