Directly on the heels of AT&T's launch of the Samsung Galaxy Note, LG decided to reveal their own big screen smartphone, the Optimus Vu.
Both the Samsung Galaxy Note and the Optimus Vu push the boundaries between smart phones and tablets, due to their size.
The LG Optimus Vu will have a 5 inch touchscreen with 1024-by-768 resolution with a rather squarish 4:3 aspect ratio. It will have a 1.5 GHz dual core processor. They did not confirm the amount of RAM, though it has been previously leaked that it will have 1 GB. They did say it has a whopping 32 GB of onboard storage. There'll be an 8 megapixel rear facing camera and a 1.3 megapixel front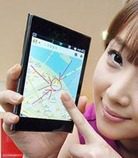 facing camera. Like the Galaxy Note, this smartphone/baby-tablet will come with a stylus.
The Vu will be launched running Android 2.3 (Gingerbread). LG said they will have an update to Android 4 (Ice Cream Sandwich) within three months of the launch.
And just when will that launch be? In South Korea it will launch in March. Unfortunately for US shoppers, we'll just have to wait and see. There's no mention of a US launch date or what carrier it might launch on. No joy on the price either, we'll have to wait for that as well.