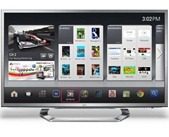 LG Electronics is preparing to launch an internet-capable smart TV running Google TV. According to Ro Seogho, an executive vice president of LG's TV unit, the new TVs may launch in the US as early as March 21.
Ro was quoted by Reuters yesterday. Speaking to a small group of reporters, he said "Production of Google TVs will start from May 17 from our factory in Mexico and U.S. consumers will be able to buy the product from the week of May 21."
According to Reuters, he did not supply any details concerning the screen size, specs, or pricing.
However, back in January, the company did say that it planned to make 55 to 84 inch 3D HDTV's running Google TV. They said the sets would include a 3D conversion engine that would turn 2D shows into 3D.
The TVs are also expected to include LG's "Magic Remote Qwerty," a gesture and voice activated remote with a QWERTY keyboard on the back.
Ro also said that no decisions had been made yet concerning the European and Asian markets. The TV will be released here in the US first, and then a decision made after seeing how it sells.
We'll be following this story closely and have more details for you here at CP as they come out.