Exceeding expectations by a whopping amount, Dr. Seuss' "The Lorax" cleaned up in theaters this past weekend. The initial numbers coming in indicate it has raked in over $70 million. For comparison, the next largest first weekend opening this year prior to the release of "The Lorax" was "The Vow," and it earned $41 million on its opening weekend. Another comparison, the better-known Dr. Seuss story turned animated film, 2008 "Horton Hears A Who!" Earned $45 million in its opening weekend.
"The Lorax" was shown in 3,729 theaters over the weekend. 50% of gross take was from 3-D and digital IMAX theaters.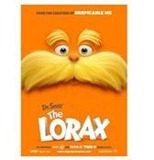 The movie is based on a 1971 children's book, of the same name, written by Dr. Seuss. The release of the film was timed to coincide with his 108 birthday. Dr. Seuss, whose real name was Theodor Seuss Geisel (the same name as the young boy character in "The Thorax"), died in 1991 at the age of 87.
We noted on the opening day of the movie that while critics were underwhelmed by the movie, regular moviegoers seem to be enjoying it. At that time, critics had rated the film 57% at Rottentomatoes.com. Regular movie goers had rated it at 81%. While the critic rating remains 57% at the time this is being published, the rating from moviegoers has actually dropped a bit to 73%. That percentage is still high enough to indicate the movie will get some favorable word-of-mouth and should continue to do well this week and on into next weekend.