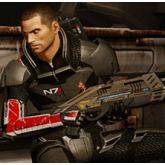 Biware, the developers of the extremely popular Mass Effect franchise have revealed the trilogy compilation pack to be released on November 6,2012.
Mass Effect has been a very successful franchise in the gaming industry and with the new Mass Effect Game in development and the new Omega DLC, a lot of people will be excited to have a compilation pack coming out.
In the official announcement of the release Bioware states:
"As Commander Shepard, rise to become the galaxy's most elite soldier and lead an all-out war to stop an ancient and ruthless enemy: the Reapers. With over 75 hours of content and more than 300 awards, one of gaming's most acclaimed franchises is available for the first time in a premium foiled box set."
Bioware will be bringing the original Mass Effect to the PlayStation 3 for the very first time.
Regarding the original Mass Effect, Bioware has decided to release it as a stand alone title for the PS3, through the PlayStation Network.
The original Mass Effect was released for the Xbox-360 and then for the PC, but never for the PlayStation.
Mass Effect 2 released initially for Xbox-360 and the PC but was later released for the PS3 as well.
Mass Effect 3 launched for all platforms on March 6, 2012 and a Wii U version will be coming out on November 18,2012.