The deluxe edition of Martina McBride's album 'Eleven' is now available at Target stores across the US and at Target.com. Target announced yesterday that they have signed an agreement to be the exclusive distributor for the deluxe edition.
"Partnering with Target gave me an opportunity to release additional tracks and video footage that truly capture the essence of the album and how it came together," Martina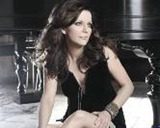 McBride said in the announcement. "I think my fans will be excited about the content found only at Target."
The deluxe edition of Eleven has four additional tracks, "You're In My House Now," "Closing Time," "Ask The Boy," and "I Give It To You." It also contains the single "I'm Gonna Love You Through It", about a woman battling breast cancer, and the music video "Teenage Daughters", along with clips taken during it's in-studio recording.
As of this morning, Target's website is off-line, with a message saying "We are suddenly extremely popular. There is no need to refresh your browser. Please stay here and we'll get you in as soon as we can! Thank you and our apologies for the inconvenience." A similar occurrence happened when Target introduced the highly popular Missoni fashion line last month. It's unknown if this is related to the announcement of Martina McBride's album.