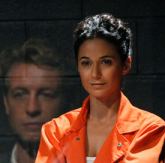 CBS will debut season five of The Mentalist on Sunday, September 30th.
The premier episode, "The Crimson Ticket", focuses on Jane's efforts to uncover the link between Red John accomplice Lorelei (played by Emmanuelle Chriqui), and the man himself.
This ensemble cast is led by Simon Baker (Patrick Jane) and rounded out by Robin Tunney (Teresa Lisbon), Tim Kang (Kimball Cho), Owain Yeoman (Wayne Rigsby) and Amanda Righetti (Grace Van Pelt). The series, written by executive producer Bruno Heller, tells the tale of Patrick Jane, a one time psychic con man and his work with the California  Bureau of Investigation (CBI).
When he was conning for a living, Jane crossed a dangerous killer named Red John.
Red John took revenge by murdering Jane's wife and child.
The Mentalist has a trio of repeating themes:  revenge, sorrow and redemption.  The strength of these universal themes may explain the series' popularity.  On the other hand,  MSN contributor Andy Dehnart  maintains that The Mentalist is a tried and true formula with a twist.
Dehnart says," Television viewers love criminal mysteries that get wrapped up in an hour thanks to the hard work and efforts of a team of likable, well-qualified characters. Those types of shows are easily digestible and while they are moderately mentally stimulating ' everyone loves a good whodunit — they don't require sustained engagement week after week; viewers can dip in and dip out. "  Dehnart believes that the concept of a 'mentalist'  is new enough that it keeps the  formula fresh.
In the season 4 finale, "The Crimson Hat," Jane plays a long con that goes terribly wrong. Agent Wainwright is killed in a hail of gunfire by FBI agents who think he is Red John. Lorelei sits in interrogation, flaunting the fact to Lisbon that she slept with Jane. Lorelei says she won't divulge any information about Red John. Jane assures her that she will.
The Mentalist season 4 DVD  is available for purchase at various outlets.  The price range is $39.99-$59.98.  Used ones can be purchased for $36.00.
Leave your thoughts on what will happen in The Mentalist, S5, below!
httpvh://youtu.be/KkaqyiMxTXY