Contact lens company CooperVision, in conjunction with the United States Food and Drug Administration (FDA), has issued a recall of 6.6 million contact lens.
This recall is an expansion of one that began in August. At that time 600,000 Avaira Toric lenses were recalled after the lens were found to have a residue of silicone oil on them. The residue can cause wearers to experience hazy vision, discomfort, severe eye pain, or even eye injuries requiring medical attention. According to the recall statement, "Not everyone experiences the same symptoms."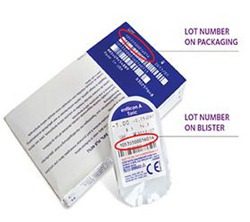 The recall was expanded today after CooperVision discovered the problem also affected another line of its contact lens, called the Avaira Sphere lens.
CooperVision is advising consumers to stop using Avaira Sphere contact lenses if they are experiencing any problems, and to contact their eye care practitioner. They have also launched a site at: www.coopervision.com/international-recall where consumers can enter the package lot number from the carton or blister label to find out if there lenses are part of the recall (locations noted on image above). Consumers may also call CooperVision at 855-526-6737 between the hours of 9 AM and 5 PM Monday-Friday for additional information.
"The company is confident we found the problem and have taken corrective action to fix the problem," said Christine Moench, Vice President, Global Regulatory Affairs and Quality Assurance. "The health and safety of our customers is our top priority."