E-Fun has announced that their new Nextbook Elite 10 tablet will be available in the Spring at a 'street price' of $229.
This is just one of the many new, inexpensive tablets that are in the pipeline for 2012.
The Nextbook Elite 10 from E-Fun will be running Android 4.0 (Ice Cream Sandwich). Android 4.0 was launched back in October, 2011. It has taken some time for the new OS to show up on a lot of new devices, or even as an update to existing devices.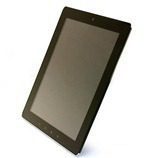 But along with 2012 being the year of the cheap tablet, it looks like it will also be a big year for Android 4.0. A slew of new phones and tablets will be introduced this year that feature Android 4.0 (updates for existing devices are slowly working their way to us too).
On the hardware side, Nextbook Elite 10 will have a 9.7 inch, 1024 x 768 high-resolution capacitive touch screen. It will be powered by a dual core 1.1Ghz processor and have 8GB of flash memory. It features built in WiFi and Bluetooth support, and has two cameras, one 5 Mp and the other 2 Mp.  It also has HDMI support and a Micro SD card slot for memory expansion.
E-Fun says the MRSP on this tablet will be $249, but it's expected to sell at $229. That's not much more than Amazon's 7 inch Kindle Fire costs ($199) and it allows for much more freedom as opposed to Amazon's heavily branded version of Android. Amazon may have had very fortunate timing with the Fire's release, as the
Nextbook Elite 10, the $199 Archos 70b, the $99 Novo7, and a number of other inexpensive competitors are right around the corner,