Apparently inspired by Herman Cain's 9-9-9 tax plan, Spirit Airlines has launched its own unique twist on the plan, turning it into a vacation plan.
Launched today, Spirit's 9-9-9 plan features $9 (each way) round trip fares on flights from and to Las Vegas, San Diego and Los Angeles. The 9-9-9 sale also includes other round trip flights for more than $9. Some of these include flights between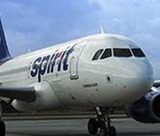 Boston and Chicago for $17 each way. Cancun and Fort Lauderdale for $22 each way. Santiago (DR) and Fort Lauderdale for $22 each way. Detroit and New York for $17 each way. And Las Vegas and Portland, Oregon, for $17 each way.
Available dates are limited, and Spirit Airlines says that while the quoted fares include the base fare, fuel surcharges, and a 7.5% US excise tax, they do not include other fees and taxes, including the passenger facility charges, passenger usage fees, and other national and international fees which are normally added to passenger travel. The sale ends October 14th, 2011, at midnight Eastern Time, however, many of the available flight dates precede the end of the sale.
Spirit Airlines' website is at Spirit.com.