BlueLounge has won awards for sleek, functional and design-forward cable management and home/office organization products – their latest product targets iPhone and iPod users at home and travelling abroad. The award-winning design studio wants users to flaunt the Jony Ive-crafted iPhone and put it on display. To accomplish this artistic goal, the BlueLounge MiniDock Home and Travel iPhone/iPod Wall Charger and Display Docking Station was launched today in the United States, United Kingdom and Europe. The $20 MSRP device is a cord-free wall charger and display-docking station made for Apple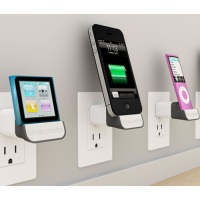 iPhone and iPod. The MiniDock enables charging and displaying of the iPhone in an upright position in any electrical outlet sans cords.
The built-in Apple USB Power Adapter can be used for charging iPhones or iPods. The MiniDock can be used for travelling or in any home or office environment.  The lightweight, cord-free design brings simplification and decluttering to charging areas normally awash in tangles of unsightly cords.
Dominic Symons, the BlueLounge Principal and Creative Director says "Our customers are passionate about their iPhones and accessories." So BlueLounge designed the MiniDock to meet the public's desire perfectly, with a sleek, safe, and innovative charging station that doubles as a display stand, keeping their devices off the floor and out of harm's way.