FUJIFILM Corporation announces the new FinePIx F600 EXR camera which includes the new Landmark Navigator, an onboard GPS driven system that locates local landmarks from a database of around one million locations. The FinePix F600 EXR automatically displays the points of interest on the camera's LCD, showing relative position, distance from current location and type of location. This feature also includes Photo Navigation to see previously photographed location and Tracking Data, including the pictures taken along the route, using Google Maps on a regular computer.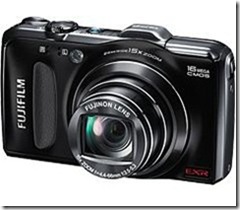 The full featured FinePix F600 digital camera includes a 16-megapixel EXR-CMOS sensor with auto mode and motion detection technology, 5x optical zoom and 2x Intelligent digital zoom, a Motion Panorama 360 mode (seamless) and Full HD (1080p) movie capture. This can all be saved on an SD, SDHC or SDXC card.
The FinePix F600 also includes a full complement of exposure modes including aperture and shutter priority, manual settings for creative shooting, 8fps continuous frame capture at full resolution, Raw file format, a range of file simulation modes and a full-featured flash. The HD 1080p movie capture includes full stereo sound and a high speed movie option for freezing fast moving action up to 320fps. There are also options to handle low lighting conditions.