After last weekend's run on the HP TouchPad, every retail outlet we have surveyed is sold out. HP.com is still reporting that they are out of stock.
However, we have found the HP TouchPad selling on eBay. While the cost is more than the $99 and $149 firesale prices that were available at stores over the weekend, new HP TouchPad tablets are selling well under their previous $499 to $599 prices.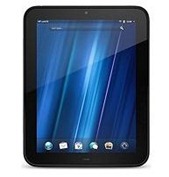 Anecdotal evidence and various bloggers suggest that opportunists grabbed up as many of the $99 and $149 tablets as they could during the firesale, with the plan of reselling them for more at places such as eBay.
Looking at the last 10, new, 16 GB HP TouchPads, sold on eBay this morning, finds that they have averaged $255.20 each. Of all the 16 GB versions that were sold since 4 AM this morning, the lowest-priced was $205. The highest price was $325. Of course, this is just looking at prices and does not take reputation and other details into consideration. eBay currently reports that 1,236 HP TouchPads (16 GB) are currently listed at auction.
As for 32 GB HP TouchPads, the average price over the last 10 sold was $295. The highest price paid since 4 AM this morning was $410, the lowest was $260. 1,126 of the 32 GB version are currently listed at auction.
On average, the tablets are selling on eBay at quite a bit more than HP's firesale prices, but much less than the full retail price was just last week.
---
Have A Question? Ask Jessica!