Barnes & Noble has invited analysts and journalists to a news conference next Monday that they said would be for a "very special announcement".
Of course, that sent tongues to wagging!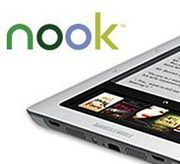 The consensus? Barnes & Noble has a new Nook ebook reader in the offing. And while it's certainly not for certain that the announcement will be about a new Nook, the invitation included a green, lowercase, letter "n", such as seen in the Nook logo to the right.
It's been rumored for some time that Barnes & Noble would have a new Nook Color 2 ready for launch in November, with a ship date prior to November 15 – the date that the new Kindle Fire is to officially to go on sale. The Kindle Fire is Amazon's first ever tablet. Analyst and online journalist both appear to expect Barnes & Noble to at least try to still some thunder from Amazon's Kindle fire. However, to do that, Barnes and Noble would have to reveal some kind of new tablet-like device during Monday's news event. Something with streaming content and its own apps and ecosystem. It would also have to be competitive with the Kindle Fire's price of $199. That's a pretty high bar for B&N to jump over.