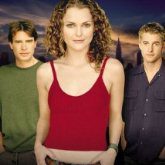 Time Magazine called Felicity one of the best TV shows of all time, and it's now available for streaming through Hulu.
Keri Russell stars as a young woman trying to find herself after she changes her college plans in order to follow her high school crush. This coming of age story was a breakout hit for The WB network charming fans and critics alike. In 1999 Russell took home a Golden Globe for her efforts, but shortly afterwards the ratings began to decline.
Was it due to poor scripts? Poor acting? No. The press claimed it was due to a hair cut.
After a bad breakup, Felicity did what many women do, she reinvented herself by cutting off her signature mane of wild curls. It didn't sit well with the fans and the series ended shortly after.
What did live on was the pop culture joke that made its way into shows such as Buffy the Vampire Slayer, The Gilmore Girls and Six Feet Under.
All 84 episodes of Felicity are now available on Hulu.
Sports Night, another critical favorite, is also new on Hulu this week.
The unlikely hit follows the cast and crew of a sports talk show as they deal with life, love and work. The series was created by Aaron Sorkin of the West Wing and is known for its dry wit and crackling dialogue. All 45 episodes are available for streaming.
On the other end of the spectrum, is the 1991 incarnation of Tarzan starring Wolf Larsen.
The Hulu description says this is the famous Ron Ely series, but it's actually a cheesy, low budget, half-hour adventure. The confusion likely stems from the fact that Ron Ely guests in one episode. Not stellar, but worth watching if you're a fan of hunky men in loincloths. Hulu has all 25 episodes of the series available for streaming.
Prefer reality over fiction? Hulu has recently added in a collection of How To segment from Martha Stewart, including a guide to Halloween decor and treats.  Spooky!