Have you ever tasted a city?
No, I'm not talking about licking the pavement here.
The food you can find in New York tells you as much about its history and culture as the sights you see, the music you hear, and the places you visit.
Through a combination of specialty food shops, cultural eateries, and classic American restaurants, Empire City manages to display its diversity and appeal.
Eating out is an important part of any holiday, but quite often we still find one or two great restaurants and stick to them.
For the foodies dedicated to trying as much as possible, the choice can be overwhelming. Luckily, New Yorkers have come up with the perfect solution to both of these problems – food tours!
Take your taste buds on a guided tour
When it comes to finding the best places to eat, there's no one better to ask than locals. But why stop at asking? There are plenty of people happy to show you around these great establishments with their recommendations for the best dishes and produce to try.
Combining expert local knowledge with a taste for the finest, your tour guides will give you a chance to experience the Big Apple from a new perspective – and one that most people probably wouldn't think of.
Pick your cuisine
Whether you're after delicious Italian, classic 'US of A' or authentic Chinese fare, there are plenty of tour providers to cater for your needs. Foods of New York Tours will take you through an historic Italian neighborhood, or for a walk around Chinatown, while City Food Tours lets you try out a selection of chocolates, desserts and wines in SoHo and NoLIta.
The tours are run by local residents and cookery experts who love food as much as they love New York – and they're eager to share their passion with you. The tours take place in varying group sizes and times, depending upon the provider, and will walk you around some of the famous and wonderful neighborhoods of the Big Apple.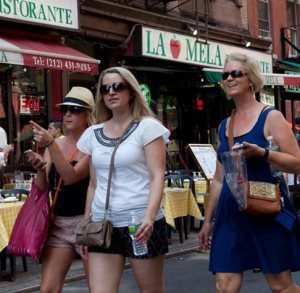 Things to consider
Obviously the kind of food you like will dictate what tour you want to take. Remember that location and distance are going to be important; you will most likely need to provide your own transportation to and from the tour, and the tours could involve quite a lot of walking over a period of several hours. Unless, of course, you're taking Famous Fat Dave's Five Borough Eating Tour in his vintage Checker cab.
If you have special dietary requirements, you'll need to discuss this with tour providers prior to booking, as some may be able to offer alternatives, while others might not be able to cater to your needs. Other than that, as long as you've got comfortable footwear and a healthy appetite for trying new things, you should be fine.
Give something new a try
For most people, a holiday is all about the sights or the experiences. While we don't usually neglect our taste buds when travelling, a lot of us will probably admit to playing it safe and sticking to what we know.
A taste tour of New York is the perfect chance to explore the city in a completely new way.
If you're looking for a place to stay, HotelClub has some great deals on New York hotels. Who knows? You might even discover a new favorite dish.
Images by Leon Cato Photography