Barnes & Noble introduced their new Nook Tablet today in a press event in New York.
Many of the rumors posted about the Nook Tablet over the last few days proved to be accurate, but Barnes and Noble did manage to hold onto a few surprises that were released at the event.
One of those is that the Nook Tablet is lightweight, at 14.1 ounces it comes in at less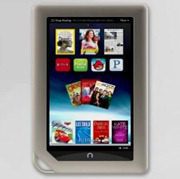 than a pound. But Amazon's Kindle Fire – the product the will be (somewhat) going head to head with isn't much heavier, at 14.6 ounces.
Most of the pre-introduction rumors suggested the Nook Tablet would have a dual core 1.2GHZ processor, but that proved to be incorrect. The new Nook has a dual core 1 GHz processor, just like the Kindle Fire.
One positive surprise is the battery time. According to Barnes & Noble, the Nook Tablet will have 11 1/2 hours of reading time, and up to nine hours of video playback time. That compares to eight hours of reading, and 7 1/2 hours of video playback on the Kindle Fire.
As expected, the new Nook Tablet will have a 7 inch screen, 1 GB of memory, 16 GB of internal storage and up to 32 GB via MicroSD. For comparisons sake, the Kindle Fire has half the memory, half the internal storage, and no MicroSD port.
While the Nook Tablet is definitely a more powerful tablet than the Kindle Fire, both of these tablets are being promoted more as media devices for accessing e-books (of course), movies, TV shows, apps, and the Internet. A substantial difference between the two will be the content they can access.
The Kindle Fire, with a membership to Amazon Prime, will provide access to Kindle books, the new Kindle Lending Library, and all of the streaming movies and TV shows that are included with an Amazon Prime membership.
The Nook Tablet will provide access to Nook books, plus streaming movies and TV through Netflix and Hulu Plus, which also require membership fees.
As expected, the Nook Tablet is priced at $249. This is $50 more than the Amazon Fire. Some analysts are stating that the Nook Tablet will struggle at the $249 price.
However, it might be a matter of different e-reader tablets for different folks. Barnes & Noble will have the advantage of showing off, and allowing potential buyers to put their hands on, a Nook Tablet in their brick-and-mortar stores. This hands-on experience, the more powerful specs, and access to content that is not so 'Amazon focused', may appeal to more upscale buyers. The Nook Tablet and the Amazon Fire may not.go head-to-head as much as side-by-side, each aiming at slightly different demographics.
The Nook Tablet is currently available for pre-ordering through BarnesandNoble.com, and is set to be released on November 18, 2011.
---
Have A Question? Ask Jessica!