Not to be outdone by Amazon, who launched their Kindle Fire tablet one day earlier than expected, Barnes & Noble has launched and shipped their new Nook Tablet one day early as well.
According to Barnes & Noble and reports from the field, the Nook Tablet began showing up in stores today, and was also shipped today to those who pre-ordered.
While Barnes & Noble did not give out any figures regarding how many Nook Tablets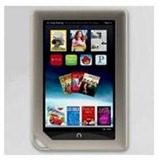 have been pre-ordered, William Lynch, Barnes & Noble's CEO , said "…the customer response has been even greater than anticipated."
The early launch and shipping of the Nook Tablet did not really come as much of a surprise to anyone who's been watching Barnes & Noble and Amazon go tit-for-tat in the lead up to the launches of their new tablets. However, it has generally seemed that Barnes & Noble has been playing catch-up to Amazon's press crush, as we reported here.
The Nook Tablet is without a doubt the more powerful of the two tablets, with more ram and storage ability. It also comes at a slightly higher price, $249 compared to the Kindle Fire's $199 cost.
However, to take complete advantage of the entertainment possibilities with either of these tablets requires additional subscriptions. An Amazon Prime membership, which is $79 per year, provides Kindle Fire owners with a slew of movies and TV shows. Purchasing both the Fire and the Prime membership together will run the upfront cost up to about $280.
The Nook Tablet can access Netflix, which costs $7.99/month. Netflix currently has a first month free offer, so the Nook Tablet would not have additional costs up front to access movies and TV shows. While much attention has been paid to the Kindle Fire having a lower price, once the costs of streaming entertainment are factored in, Barnes & Noble might actually have a bit of an advantage – at least in the initial upfront pricing. But so far, Amazon has been the darling of the press, garnering most of the attention, and will likely get the bulk of the sales.