Britax Child Safety, Inc is recalling 14,220 Chaperone Infant Car Seats in the US, according to a Consumer Advisory from the National Highway Traffic Safety Administration (NHTSA). They report that there is a problem with the harness adjuster becoming detached from the seat, causing the harness to not properly secure the child. A rivet that is to hold the harness adjuster in place is defective.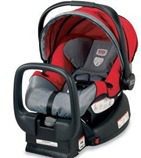 The model numbers being recalled are: E9L692J; E9L692K; E9L692L; and E9L692M. the manufacturing date is from September 1, 2010, through April 30, 2011. The serial number and manufacturing date are located on a white sticker on the bottom of the car seats.
The NHTSA and the company are asking owners to immediately stop use of the car seat if the harness adjuster has become detached. They advise that "the harness adjuster is located at the foot of the car seat and can be easily accessed by lifting the fabric and checking that the adjuster is secured in place by the rivet." The company said that anyone with questions concerning the recall can contact them at (888) 427-4829 or at www.britaxusa.com.