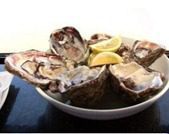 Health officials in Louisiana are recalling oysters and have closed a harvesting area after 14 people were sickened by norovirus.
Norovirus often makes the headlines when cruise ship passengers turn up ill in mass, but it's actually common on land as well, according to the CDC. They estimate that the group of viruses generally called norovirus accounts for about half of all food borne illnesses. It's the most common cause of diarrhea in adults. Along with the diarrhea, systems include fatigue, low-grade fever, vomiting, chills, muscle and head aches, according to WebMD.
According to the Louisiana Department of Health and Hospitals (LDHH), the 14 people that became ill all ate oysters at the same New Orleans area restaurant on April 28 and 29. The batch of oysters the restaurant served was traced back to a harvesting area referred to as Area 23. That area is now closed to harvesting for at least 21 days.
Oysters from that area were shipped to Maryland, Texas and Georgia. The recall includes shucked, frozen, breaded and processed oysters and those for the half-shell market harvested from Area 23 since April 26.
The LDHH did not provide any information on how shoppers could identify the recalled oysters.