According to an email received yesterday from PentaxWebstore.com, both the Pentax Optio WG-1 GPS Gray, and the Pentax Optio WG-1 GPS Green, are back in stock and available for shipping.
The Optio WG-1 GPS digital camera is part of a lineup of tough and rugged cameras from Pentax. They are waterproof to depths of 33 feet, and can be used for underwater photography in pools, while snorkeling or during fairly shallow scuba dives. They are shockproof – designed to withstand falls of up to 5 feet. They're crushproof up to 220 pounds, and coldproof to temperatures of 14 degrees fahrenheit.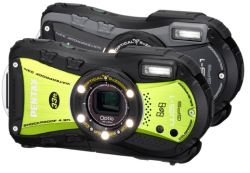 The Optio WG-1 GPS was originally launched in February of this year, and due to demand, quickly sold out. The 14 megapixel camera has a 5x zoom lens, and captures video at up to 720p.
A similar model, without the gps, but that otherwise has the same design and specs, comes in black or purple. This model, with gps, logs the time and location as photos are taken. The camera comes with Windows based software for accessing GPS mapping programs like Google Earth and Google Maps.
Additional features include: face detection, 9 point focus detection, red eye reduction, and SD, SDHC, and SDXC card support. It also has an interesting set up for taking extreme closeups, which includes 5 LED lights that surround the lens to light the subject being photographed.
The Pentax Optio WG-1 GPS kit, which includes the camera plus USB and AV cables, the rechargeable battery and charger, carabiner and strap, a macro stand, and software, is available for $399.95 at PentaxWebstore.com and other retailers nationwide.