The Pentax Optio WG-1 GPS is a tough and rugged camera. It can be dropped, dunked, frozen, dirtied and sat on… but does it take good pictures? In this review – we'll find out!
We'll do this by taking the camera to a wide assortment of situations – from adventurous to refined, from work to family, to see how it performs.
But first, some quick facts: The Pentax Optio WG-1 GPS is rugged without a doubt. It's waterproof to 33 feet for up to two hours, coldproof to 14 degrees F. Crushproof to 220 pounds. Its dustproof… and we got it plenty dirty and sandy during our review!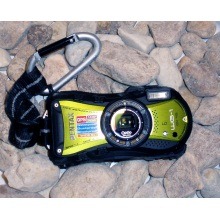 For a rugged camera, it has an absolute ton of features:
– It takes photos up with a resolution of up to 14 megapixels.
– It has a 5x zoom optical lens, with digital zoom that goes up to 33.5x (and takes a pretty good picture at full zoom – see video).
– Video records at up to 720p HD at 30 frames/second.
– It has an HDMI port for playing back on HDTV's.
– A GPS tagging feature (on this model).
– Led lights around the front lens that provide light for close up shots.
– And there's a long list of different shooting modes available.
The first challenge we threw at the Optio WG-1 GPS was of a more refined, family, nature  – a children's musical presentation. But that doesn't mean it was an easy shoot – not at all. The stage was dark, the lights bright, the kids far away, and the sound to be recorded in video/movie mode ranged from lots of children singing at the top of their lungs to the sharp percussion of garbage can drums.
We filmed last year's musical with a different camera, and it came out pretty rough and blurry, both sound and picture wise. But as you will see on the video (below), the Pentax Optio WG-1 GPS did pretty darn good with it. The video, singing, and even the percussion, came out just fine.
The very next day, we joined our archaeology buddies on a dig. Yep, time to get the camera dirty!
When it comes to the great outdoors, the Pentax Optio WG-1 GPS is really in its element. We found the camera to be a great asset in the field. It could be taken onto the dig site without the worry of getting it dirty, or wet. It handled being bumped and jostled as we scraped, dug, and maneuvered around the site. While other cameras on the dig were being kept carefully in cushioned bags and gently used only after hands were hosed off and free of dirt… and then quickly returned to their bags after photos were taken – we carried the Optio WG-1 GPS all around the dig on it's carabiner, using it with dirty hands, sticking it in holes in the ground for pictures. It got wet, dirty, muddy, and we didn't have to worry about it. Just rinsed it off in a hose before heading home.
The macro feature performed fabulously and was very useful on the dig.  Even the head archaeologist (who has lots of experience in taking close-ups of artifacts) was wowed. We caught some great stills of artifacts as they were uncovered. One in particular was of a tiny button. It had some writing on it, in English, but we couldn't make out what it said with the naked eye. We put the camera into 'macro' (close up) mode, took a very close close-up, and we could immediately make out the word: "PLATE" (probably indicating it was 'plated').
That picture was taken in the macro focus mode – which made me very curious as to just how close this thing could get if I put it into microscope mode? The answer – very, very, close! Take a look at the date on the penny in the video! This is where the led lights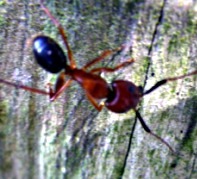 really came into play – as the camera was so close, almost all other light was blocked. We also used the lights on this close up of an ant crawling on a log. And this was just a quick "look, an ant, let's take a picture of it". Someone taking their time (or having some expertise) in taking 'bug' photos, or other nature photography, could take this camera in the field and get some really stunning photos.
The camera does come with a macro stand – this would be used in situations where the object being photographed was very flat. Perhaps something on paper (text, or something on a map) or the fine details of a leaf? For anything that has a little height, it worked better for us to just hold the camera slightly above the object while the shot was taken.
After the dig, it was time to cool off! So we hit the pool with the kids, who loved the videos of themselves playing underwater and being goofy. Nice thing about the camera being rugged? I was not afraid to let the kids take the camera and play a bit with it themselves – though the video they took was rather dizzying (they never stopped moving, so the movie was constant motion with only the briefest glimpses of things).
The next day, it was back to work . The camera was used to take some initial photos of a vacuum we will be reviewing in the next few days… and the dog, who along with her shed hair, should give the vacuum a good testing. And yes, the pet face detection on the camera does work!
The final situation we threw at the camera was the beach. We gave it a good dunking in the sand and salt water. The stills at the beach came out great – no problem there. But we did discover that the camera – when taking video – apparently struggles a bit with glare. For example, sometimes at the beach (and later, taking a video during sunset), the sun glinting off the surface of the water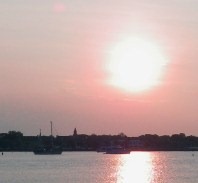 would cause vertical lines and some breaking up in the quality of the video.
Again though, the stills came out fine. This shot, of the sun going down over the bay, had plenty of glare. But the Optio WG-1 GPS had no trouble with it as a still. It must be kept in mind that this is primarily a camera. One that did a very good job with video, too, in most situations, but it's not a full on camcorder. So we can cut it some slack in that department.
The last thing you will see on the video below is an example of the zoom. The end of the dock is more than 120 yards away from where we were on the beach, and even at full digital zoom the picture still came out good.
Our overall impressions of the Pentax Optio WG-1 GPS? First of all, it's an attractive camera. Many rugged cameras are boxy and metallic looking. With the Pentax Optio WG-1 GPS, we received unsolicited comments about what a nice and cool looking camera we were using. This almost invariably led to a discussion about its rugged features. On looks alone it's a conversation starter.
The camera is surprisingly light, small, and has sturdy feel. It's comfortable to use. It takes great pictures – and it's ability to take macros is awesome – especially considering it's a rugged camera. The display was easy to see, both indoors and out. Even out in the very bright sun at the pool and beach, the display could be seen and used easily.
We found it useful for family shots, field work, indoor photos, playtime at the pool and beach. Other activities we would feel comfortable using it for would include hiking, nature studies, boating, fishing, shallow water exploration, climbing, caving, and similar pursuits.
If climbing or caving, I'd use a protective camera case when it wasn't actively being used. Just to protect the camera from impact with the side of a mountain, or getting mud ground into it while I crawl on my belly over a muddy cave floor. Pentax does sell a soft sided case designed for this camera. We did find that mud and sand can get into crevices around the door to the battery compartment. Even after cleaning as per the instructions, some grit remained in the crevices. But it did not enter the camera nor breach the waterproof packing, so it wasn't a problem.
When it comes to field work, we see a huge advantage in this camera's ability to 1) take both extreme close-ups and landscape shots, 2) document the location with GPS coordinates and 3) survive wet and dirty conditions.
Below is a video with stills and movies taken with the Pentax Optio WG-1 GPS. Be aware that the video did degrade just a bit in uploading it to Youtube, but it will give you a good idea of the camera's ability:
.
.