People Express Airlines, or 'PeoplExpress', as their logo puts it, is on its way back into existence.
Anyone old enough to remember the early days of MTV and when E.T. the Extra-Terrestrial came out in theaters, will also likely remember the no-frills, low-cost, airline called People Express. The original People Express was launched in 1981 and flew until 1987, when it merged into Continental Airlines.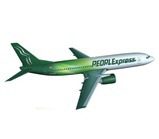 And that was the end of People Express… or so we thought. No one in their right mind expected it to come back into existence in 2012.
But apparently it is. An application was filed with the US Department of Transportation yesterday by People Express Airlines which, if approved, will allow it to begin interstate air transportation. The president of the company, which was also an official with People Express in the 1980s, said that Pittsburgh, Providence (RI), West Palm Beach, and Orlando will be included as some of their destinations as they begin service.
Their strategy involves a plan to provide service to locations that are underserved or unserved by the major carriers, while charging fares that are about 40% less than average ticket prices.
They hope to begin offering service by the end of this summer.