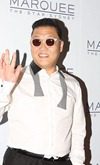 Park Jae-Sang, commonly known as PSY, has garnered praise for his Gangnam Style song and video, but the past has come back to haunt the 34-year-old singer.
After amassing nearly one billion views on YouTube and selling millions of Gangnam Style songs worldwide, PSY has become a multi-millionaire almost overnight.
It is estimated he will get about $8.1 million in proceeds from the popular tune in all its formats in 2012. He's even received praise from world leaders, including the U.N. Secretary General Ban Ki-Moon who called the song a "force for world peace."
Indeed, the catchy song has inspired many parodies, flash mobs, and is generally viewed as a fun song that has entertained millions, if not billions worldwide. But with any kind of spotlight in today's society, that welcomes an inspection of everything the artist has done. PSY has an embarrassing bit of rapping from his past that has come back to haunt him.
The PSY controversy goes back eight years before Gangnam Style to a young rapper who wanted to make a political statement against the Iraqi war. This grew in part from an earlier protest against American troops on the Korean Peninsula after two Korean schoolgirls were brutally killed by American soldiers there. The unfortunate deeply emotional reaction had PSY calling for the deaths of the American soldiers and their families in retaliation.
PSY has made a public apology for offending anyone with the song eight years ago, but will that be enough to keep the snowball rolling for his sales and popularity? There has been a call by fans to boycott his participation in the Christmas in Washington celebration with President Obama. That's a quick turnaround for the singer's popularity and bittersweet considering he recently performed for American troops.
Will PSY's controversial expression of free speech in the past derail his Gangnam Style rollercoaster of cash? Only time will tell.
What do you think should happen to PSY's career? Should it tank or should he be forgiven for the emotional reactions of his youth? Let me know in the comments below!
photo credit: Eva Rinaldi