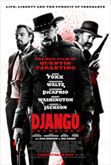 Django Unchained is rocking the box office with Quentin Tarantino's best opening yet.
Django Unchained has grossed over $33 million and it hasn't reached the weekend yet. This puts it on pace to easily beat the director's last film, Inglourious Basterds, which opened with just over $38 million and went on to gross $120 million.
Django Unchained is a story of vengeance much like Inglourious Basterds. Tarantino imbues his films with a very in-your-face experience, pulling no punches and shocking some audiences.
This is not a watered down film. It's raw, emotional, and superbly acted by the films stars – Jamie Foxx, Leonardo DiCaprio, Cristoph Waltz and Samuel L. Jackson.
While Django Unchained is setting records for Tarantino at the box office, it's also getting some negative feedback from conservative viewers disturbed by the content and language. The feedback is not likely to damper the movie's success at the box office, as pretty much every Quentin Tarantino film has vulgar language and violent content in it. That's pretty much expected from this director. If anything, the comments about it's content may actually be fanning the flames of excitement to see the film, lending speed to its rollercoaster receipts so far.
For R Rated films, it's also on pace to break into the top ten. That's a rarified level of filmdom inhabited by films like the Matrix sequels, The Exorcist, Saving Private Ryan and raunchy comedies like the Hangover films, Beverly Hills Cop and Wedding Crashers. Every Quentin Tarantino film has been rated R and this may be the first one to get to the top ten. Only Pulp Fiction and Inglourious Basterds broke $100 million. Django Unchained will need to break $210 million to reach then top winner's circle.
As Django Unchained exercises its box office muscle, this may set Quentin Tarantino into another class of director – the blockbuster.
Do you think Django Unchained will break $210 million, or lose it's mojo before it breaks the top ten? Let me know in the comments below!