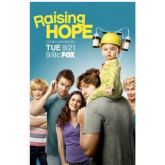 The highly anticipated Raising Hope season 3 will premiere on TV October 2, at 8/7c,  on Fox.
But Entertainment Weekly is reporting that Fox and Twitter have joined together to air the third season premier on Raising Hope's official Twitter page – before it can be seen on TV.
Fans will be able to watch the premier episode online from now to September 27th through a link  available on Twitter: @RaisingHopeFox
But that's not all – the early, online, premier of Raising Hope, S3 will also be shown commercial free.
Fox and Twitter are setting a new precedent as the first to use social media to introduce a full episode online, side stepping the networks. Fans will also be able to go to Raising Hope's Facebook page to link up to see the premier episode.
Melanie Griffith will guest star as the mother of Sabrina (Shannon Woodward) who is Jimmy's (Lucas Neff) love interest on the show.
The surprises don't end there. Tipi Hendren (known for her roles in the Alfred Hitchcock movie The Birds), real ife mother of Melanie Griffith, will play Sabrina's grandmother. You can definitely see the resemblance between mother and daughter.
Raising Hope season one can be seen on Netflix. Season two will be available on Netflix October 5th. Seasons one and two can also be found on Amazon Instant Video and Itunes.