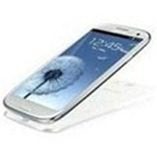 The Samsung Galaxy S3 is being offered with a number of discounts and bonuses from one carrier. A rather surprising turn for a phone so new and in such hot demand.
Sprint is aggressively going after Samsung Galaxy S3 shoppers – actually any smartphone shoppers – by offering a $100 American Express card, and the waiving of the $36 activation fee, for any smartphone order purchased online with a new two year service contract. According to their site, the free card and waived activation fee offer is good through July 14.
The up front cost of the 16GB Galaxy S III with a Sprint contract is $199.
Online cell phone discounters Wirefly and LetsTalk also offer the phone with a Sprint contract at a discount: $179. At Wirefly the deal also includes free back up service, a 16GB memory card, and a $10 Google Wallet credit. But with the discounters, shoppers don't get the $100 card and waived activation fee.
Sprint is the only carrier that is offering a deal on the Galaxy S III that stands out from the others, at least in a good way.
AT&T offers the phone for $199 with a new contract. No extra specials.
Verizon, which just started shipping out preorders and announced yesterday that the phone would hit Verizon stores on July 10, will also offer the phone for $199 with a new contract. No specials announced at this time.
T-Mobile is charging a whopping $329 for the phone – on contract. It comes with a $50 mail in rebate.
And US Cellular is taking preorders, but has still not provided us with a shipping date for those orders. They are charging $299 up front, and the phone comes with a $100 mail in rebate.
Will Sprint's deal make you a Sprint shopper? Let us know in the comment section below.