A new study has found that smartphone ownership as a percentage of total mobile phone ownership is growing.
The research, done by Pew Internet, found that 46% of American adults own a smart phone. Of the respondents in the study, 41% own a more simple cell phone. That would indicate that there are now more smartphone owners than owners of basic cell phones.
Pew reported that every major demographic, from men to women, to younger and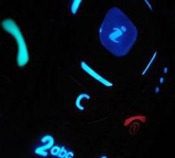 older, urban and rural, and even both the wealthy and the not so wealthy, saw ownership of smartphones increase.
Pew noted there were some exceptions to that. Primarily, seniors do not appear to be taking to smartphones as fast as the younger and middle-aged groups. Only 13% of those over the age of 65 currently own a smart phone.
The study found that 88% of American adults now own a either a basic cell phone or a smartphone.
The survey was done by phone, and sampled 2,253 adults 18 years old and older. The results have a 2.3% to 2.7% margin of error.
There was some, not totally unexpected, bad news for Research In Motion (RIM), the company behind the BlackBerry smartphone. Pew said that of all smartphone ownership, 20% of owners reported their phone is an Android phone. 19% said they are using an Apple phone. Just 6% are using a BlackBerry phone. Last year's study pegged BlackBerry use at 16%.