Sony has some interesting new technology on their new Xperia Sola smartphone. They call it "floating touch."
The technology is mostly geared toward web browsing. Users will be able to hover their finger above the touchscreen, without touching it, to navigate and highlight links. Then a touch on the highlighted link activates the link. This is the first smartphone with this feature. Sony, during their reveal of the phone, said there will be more on the way.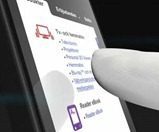 The Sola has a 3.7 inch screen and runs on a 1 GHz dual core processor. No Android 4.0 (Ice Cream Sandwich) unfortunately, it's running 2.3 (Gingerbread). Sony said they plan to have an upgrade to Android 4 available sometime this summer. The phone also has a 5 megapixel camera, and will be available in red, black, and white.
No pricing info is available yet. And nothing concerning what carriers it will appear on. It's expected to launch worldwide sometime in the Spring.
The video below, from Sony, offers a glimpse of the new "floating touch" technology.
http://youtu.be/vESGv2O5mhQ