We are shopping and spending more this Spring, according to reports from several retailers.
The flurry of shopping activity is being attributed to warmer than usual weather, an earlier than usual Easter, and strong interest in spring fashions.
Target is a prime example. They are reporting 7.3% increase in same store sales over March of last year. It was expected that Target would report an increase of about 5%.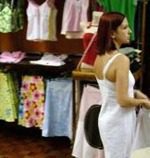 Overall net sales at Target increased 7.9% to $6.43 billion during March. Target reported that there was an increase in both the number of shopping transactions, and the average size of transactions.
Many Spring fashion lines landed early in stores this year, timed to take advantage of the regular increase in spring shopping that coincides with the Easter holiday. The date for Easter is based on the lunar calendar. Last year, the holiday fell on April 24. This year (2012) Easter is on April 8. Next year, it will even be earlier, March 31. According to a recent release from Walmart, Easter is the second largest shopping holiday of the year, second only to Christmas.
The increase in spending may also be related to an improving economy. Or at least a feeling that the economy won't get any worse. Yesterday, the Seattle Times quoted Joel Bines, managing director of the retail practice of AlixPartners, as saying "There's a growing belief we reached bottom a while ago. Rather than confidence that things have turned the corner, it's confidence that things are unlikely to get worse from here."
Other retailers reporting higher than expected sales during March included Macy's, Nordstrom, and Gap.