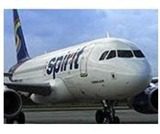 After digging in their heels and saying they just weren't going to give in to a dying vet's demands, Spirit Airlines has caved to public pressure. Ben Baldanza, CEO of Spirit Airlines, called the vet on Friday afternoon and reimbursed him for the price of the ticket.
The whole public relations disaster started for Spirit Airlines when they turned down a refund request from Jerry Meekins. He had requested a refund after a doctor told him that flying in his condition was a bad idea. Meekins is terminally ill with esophageal cancer. Spirit turned down the refund request because they have a strict no-refund policy. They do offer insurance which would cover a refund in such a situation, but Meekins had not purchased the insurance add on.
Meekins' protested, and the story was picked up by the Tampa Tribune and spread quickly from there. Spirit was widely condemned  by much of the media for it's actions, though here at CP we took a different tack – suggesting that while it made good PR sense for Spirit to work something out, it's not very fair to all the customers who paid extra to get the insurance, nor to the customers that didn't and therefor didn't get refunds.
Spirit didn't do itself any PR favors when they then announced they were upping fees for carry on bags to as much as $100. That's not as bad as it sounds, as it only applied to specific cases. But putting that out into an existing media feeding frenzy triggered more angry condemnations..
Then Baldanza made the PR situation even worse. In an interview with Fox News, the Spirit Airlines CEO, when asked about the high number of customer complaints the airline receives, said that stat is irrelevant.
Due to the Meekins refund issue and the other PR stumbles the company has racked up over the last few weeks, a Facebook page calling for a Spirit Airlines boycot has received over 40,000 likes.
Now that SpiritAir has agreed to issue a refund to Meekins… and is also ponying up a $5000 donation to the Wounded Warriors Project, will they be forgiven?
Leave your thoughts below –