In a somewhat contrarian move, T-Mobile USA and Nokia are teaming up to launch a smart phone geared toward novices.
According to an e-mail we received from T-Mobile spokeswoman Danielle Hopcus, the Nokia Lumia 710 is "Targeted at the nearly 150 million Americans still to purchase their first smartphone."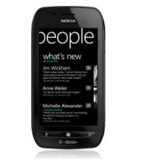 So at a time when most companies are coming up with their biggest, brightest, smartest, most advanced, smartphones ever – what's different about this phone?
Is it just a dumbed down smartphone?
Well, no. The Nokia Lumia 710 will feature Windows Phone 7.5 as its operating system. Windows Phone isn't as sexy sounding as Apple IOS or Android, and it has a tiny market share compared to the two biggies, but it is well reviewed. It may very well be a comfort to a new or non-tech smartphone user to have a smartphone OS from the same company they use every day on their desktop computer.
The Lumia will have a Qualcomm 1.4 GHz Snapdragon processor, 512MB RAM, and a respectable 8GB of storage. The screen is fairly large, 3.7-inches, with an 800×480 ClearBlack LCD display. There's a 5-megapixel camera, GPS, Bluetooth, Wi-Fi, and it runs on 4G… not a bad combo in all.
And what may be most attractive to novice smartphone buyers – the price is $49 with the purchase of a two year T-Mobile plan (after a $50 mail in rebate). That may not be enough to convince shoppers to buy this over a similarly priced Android phone though. The fact that it is a Windows Phone will have to carry much of the weight if this phone is to do well.
T-Mobile plans to have the Nokia Lumia 710 available in stores and online on January 11, 2012. It will be available in black or white.