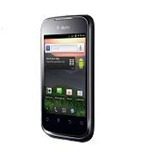 T-Mobile is preparing to launch a 'budget friendly' smart phone called the Prism.
The phone is made by Huawei. It may not have the biggest touchscreen, the fastest processor, the latest whizbang tech, or even the latest operating system. But it is a smartphone, and it will come relatively cheap. $19.99… with a new T-Mobile two-year contract… and after a $50 mail-in rebate is taken into account.
The T-Mobile Prism appears to be aimed at budget conscious first-time smartphone owners. It will feature a 3.5″ touchscreen, a 600MHz processor, includes a 3.2 megapixel camera with zoom and video capture, and has a 2 GB SD card.
At a time when Android 4.0 (Ice Cream Sandwich) is the big thing though, the prism will be launched running Android 2.3 (Gingerbread).
The prism is to have an interesting launch 'cycle', for lack of a better term. It will be available first at Best Buy stores, starting May 6. Three days later (May 9) it will rollout at Walmart. It won't be available at T-Mobile stores until May 23.