Target Corporation and the U.S. Consumer Product Safety Commission (CPSC) are. Issuing a voluntary recall of children's Frog Masks sold through Target. The masks were an individual toy, not part of a specific Halloween costume. They were sold at Target stores between August and September of 2011. Approximately 3400 were sold at about $1 each. Target had exclusive rights to the product and it's not expected to be found at other retailers.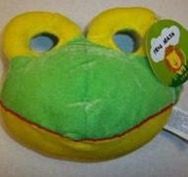 The Frog Masks are described as being plush, not a plastic mask. It's green with red and yellow highlights and two eye cutouts. A green elastic band with a fastener secures the mask to the child's head. See photo.
According to Target and the CPSC, the frog masks lack proper ventilation. When secured in place on a child's face, the mask poses a suffocation hazard. There have been no reports of injuries or deaths related to the wearing of the mask at this time, but Target and the CPSC are asking consumers to take the masks away from young children.
The frog masks can be returned to target stores for a refund. Consumers with questions are being asked to call Target at 800-440-0680 between 7am and 6pm CT Monday through Friday, or to visit target.com.