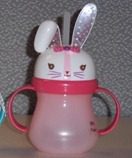 Take a look at this bunny sippy cup. You can tell pretty much by looking at it what's gonna happen when you try to suck on that straw.
And indeed it did. According to Target, which is issuing a recall on the sippy cups in conjunction with the U.S. Consumer Product Safety Commission (CPSC), six kids have been poked in the face or eye by that big bunny ear that sticking up next to the straw.
Target is recalling approximately 264,000 of the Target Home Bunny Sippy Cups. The Minneapolis based retailer, which has more than 1700 retail locations across the US, says they have received six reports of a friend being poked, with some reporting scratches and bruising.
The Chinese made sippy cups were sold from February 2012 through April 5, 2012 for about $3. The product came in both blue (boy) and pink (girl) colors. Target says that the cups can be identified by an imprint that's on the bottom of the cup which says "TARGET 200020683" on the pink one, and "TARGET 200020884" on the blue. Of course, the big bunny ear is a clue as well.
Target and the CPSC are asking consumers to bring the sippy cups back to their local target store for a full refund. Target also provided a phone number for concerned shoppers to call, (800) 440-0680, and is referring shoppers to their website, http://www.target.com, though at publication time, no information about this particular recall was found on their site.