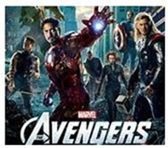 Marvel's new film, "The Avengers," is set for a huge US debut this weekend.
US box office estimates are taking the movie all the way up to, and over, the $150 million range. Some are even suggesting the movie may overtake the current reigning champion of the US box office opening weekends, "Harry Potter and the Deathly Hallows – Part 2." HPDH Part 2 raked in just over $169 million it's opening weekend in the US, and more than $483 million worldwide.
"The Avengers" launched overseas last weekend, bringing in over $281 million in receipts. The highest grossing film in the US this year so far is "The Hunger Games," which earned $152.5 million on it's opening weekend. "The Avengers" just might bump it into 2nd place.
But enough with the numbers – is the movie worth all the hub-bub?
Over at RottenTomatoes.com, the film has earned a 92% rating from the critics. Over 185 thousand movie goers have given "The Avengers" a 95% 'like' rating on the site so far.
Matthew DeKinder, of the St. Louise Post-Dispatch, wrote in his review that it's "the ultimate summer blockbuster. The movie is thrilling and funny without requiring any intellectual heavy lifting."
"It's two-plus hours of visual brawn, unexpected heartbeats and welcome humor," said Lisa Kennedy, of the Denver Post.
Two-plus hours? Yes, it's a long movie. Officially it's 2 hours and 22 minutes long.
Directed by Joss Whedon, of "Buffy the Vampire Slayer" and "Firefly" fame (amongst many others), the film has a star studded cast. We have Robert Downey, Jr. as Tony Stark, aka: Iron Man; Chris Evans as Steve Rogers (Captain America); Mark Ruffalo as Dr. Bruce Banner(Hulk); Chris Hemsworth as Thor; Samuel L. Jackson as Nick Fury; Scarlett Johansson as Natasha Romanoff (Black Widow); Tom Hiddleston as Loki; Jeremy Renner as Clint Barton (Hawkeye); Cobie Smulders as Maria Hill; Clark Gregg as Phil Coulson; Stellan Skarsgard as Erik Selvig; and Gwyneth Paltrow as Pepper Pots.
"The Avengers" is rated PG.
Have you see it yet? If so, let us know what you thought of it below.