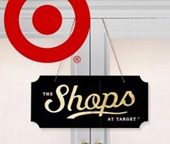 Last week Target launched their "The Shops At Target" promotion, which features select items from specialty boutiques from around the country.
Target is becoming know for its specials. "The Missoni For Target" promotion was hugely popular, and the "Jason Wu For Target" was popular as well. Not sure if Target thought "The Shops At Target" would create another big stir… but if so, they may end up disappointed.
Shoppers and critics are reporting that the items available in this new Target promotion are simply nothing to get excited about. John Ewoldt over at the Star Tribune says "This latest marketing attempt looks better in concept than in reality." Ewoldt points out that some items are sold out online and in stores, but wonders if Target really captured the inspiration of the various boutiques effectively.
Another shopping writer, Georgea Kovanis at the Detroit Free Press, echoed the sentiment, and compared "The Shops At Target" to a bad blind date. Of the product selection, she writes "On the surface, some of it is cute. But it's not very deep. And it's not substantially different from what Target already sells." She wraps up her story with this, "Target set me up to expect something great on a blind date with its so-called shops. And all I got is a few 'meh' dresses and more plastic glasses."
Target also has an online version of "The Shops At Target." It includes offerings from the same stores that are featured in their brick and mortar stores – The Webster (Miami clothing), Privet House (Connecticut home goods), Cos Bar (Aspen beauty products), Polka Dog Bakery (Boston dog treats), and The Candy Store (San Francisco treats).
Have you shopped "The Shops At Target"? If so, tell us what you think of the promotion in the comments section below.