Three 4G smartphones, one each from Sprint, T-Mobile and Verizon, are now on sale at up to $150 off prices offered direct by the carriers.
The phones are being offered through online cell phone discounter LetsTalk, who is an authorized dealer for Sprint, T-Mobile and Verizon, among other carriers.
The three phones included in their "Speedy Phones" sale are: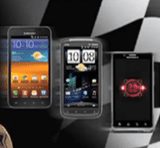 – The Epic 4G Touch (Samsung Galaxy S II) on Sprint. This smartphone features a 1.2 GHz dual-core processor, is loaded with the latest Android version, 2.3, and has a touchscreen just a tiny bit over 4 and a half inches. It has two cameras, and doubles as a 3G/4G hotspot. Currently listed at $199 on Sprint.com and at Sprint stores, the phone is available for $149 during the sale at LetsTalk, with a new two year Sprint contract, a savings of $50.
– Next up is the HTC Sensation 4G on T-Mobile. This smartphone as a 1.2 Ghz dual core Qualcomm Snapdragon processor, and also runs on Android 2.3. It has a 4.3 inch touch screen, dual cameras, functions as a wi-fi hot spot, and features HTC's proprietary touch screen interface, HTC Sense UI. For sale on T-Mobile.com for $199, it's $119 on sale at LetsTalk, when purchased with a new two year T-Mobile contract.
– Last up, but the one with the largest discount, is the Droid Bionic by Motorola on Verizon. This phone boasts of a dual-core 1GHz processor and also runs Android 2.3. It includes ZumoCast for free – a program that connects and streams data straight from a home and/or work PC. It also has dual cameras and doubles as a hotspot. This smartphone is available from Verizon with a two year contract for $299. At LetsTalk, during the sale, the Droid Bionic is $149. A savings of $150.