Panasonic has just revealed a new tough tablet.
The new Toughpad A1 is an Android tablet designed for outdoor use, such as construction and other outdoor field work. It's primary market is commercial and government enterprises.
The Toughpad A1 has a 10.1 inch multitouch, daylight readable screen made of heat treated hardened glass, and can be used with fingers or a stylus. It runs on Android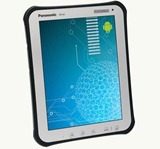 3.2, has a dual core 1.2 GHz processor, 1 GHz of memory, 16 GB of storage, supports 3G/4G, WiFi, and has micro USB, micro SDHC, and HDMI micro ports. The Toughpad also features a front facing 2MP camera and a rear facing 5MP camera. It weighs in at just over 2 pounds (rugged doesn't come light).
The Toughpad A1 is designed to "exceed the MIL-STD-810G requirement, including 4-foot drop testing and IP65 protection against water and dust," according to Panasonic. It's promoted as being rugged, water and dust resistant.
Ah, but rugged does have it's price. While consumer tablets are experiencing tremendous downward pressure on prices, with most popular models falling in the $200 to $600 range, this tough and rugged tablet from Panasonic will start at about $1300.
The Toughpad A1 will be available in 2012, and Panasonic states that they have a 7 inch model in the pipeline that will be released later that same year.