Toyota is recalling 681,500 Toyota Tacomas, Camrys, and Venzas, from a variety of model years, due to safety concerns.
The company is recalling 495,000 Tocoma trucks manufactured from 2005 to early 2009. On these trucks, the steering wheel spiral cable can become worn by friction and may cause the airbag warning light to activate and the airbag to not work in a crash.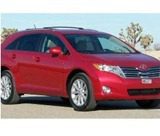 Approximately 70,500 Camry sedans manufactured in 2009, along with about 116,000 Venza crossover SUVs made from 2009 to 2011, are being recalled for a different reason.
According to Toyota, some silicon grease may have entered the stop-lamp switch of the recalled vehicles during assembly at the plant. The contaminant can cause an increase in electrical resistance within the switch. Toyota said this could cause the car not to start, prevent the car from being shifted out of park, cause dashboard warning lights to activate, and/or cause the tail lights not to work properly.
Toyota plans to contact vehicle owners to ask that they set up appointments for free repairs. However, they also suggested that the availability of parts may be an issue. Their statement said that they are "currently obtaining the necessary replacement parts. Once the replacement parts have been produced, we will send a notification (to owners) by first class mail."