The US Consumer Product Safety Commission (CPSC) announced today that toys are safer this holiday season than they have been in the past.
In the CPSC's statement, they said there were 172 toy related recalls in the fiscal year 2008. In 2009 that dropped to 50. In 2010 it fell to 46. And in 2011 the decline continued with 34 toy related recalls issued. The CPSC attributes the decline to stronger safety rules.
But the 'safer' statement is based on the number of recalls, not the number of deaths and injuries.
In a separate report compiled by the CPSC and also released today, it shows that  toy related deaths of children under 15 years old increased in 2010 to 17. That was up from 15 in 2009.
Of the 17 deaths reported in 2010, 11 involved asphyxiation or choking, and 4 were drownings. Balloons were listed as the number one cause of asphyxiation or choking related deaths in 2010, followed by rubber balls or other small balls.
The report also found that there were an estimated 251,700 toy related injuries treated in hospital emergency rooms in the US in 2010. That's up from 250,100 in 2009. Though the CPSC states that the difference is statistically insignificant, it does follow the general upward trend going back to 2006, both in the overall number, and the number per 100,000 people, as shown below.
| | | |
| --- | --- | --- |
| Year | Estimated Injuries | Total Per 100,000 People |
| 2006 | 220,500 | 74 |
| 2007 | 232,900 | 77 |
| 2008 | 235,300 | 77 |
| 2009 | 250,100 | 81 |
| 2010 | 251,700 | 82 |
The CPSC also published this chart, which shows toy related emergency room visits for children under15 years of age, going back to 1996.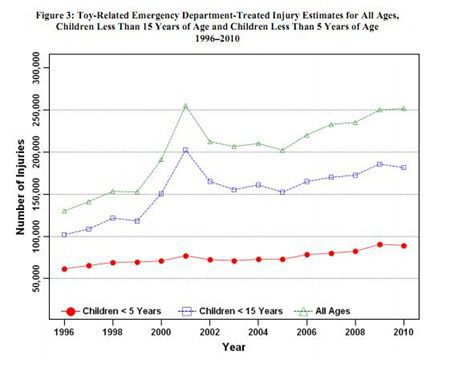 While it shows the 2001 was a rough year to be a kid, it also demonstrates a slow rise in the number of emergency room visits over the last five years the chart covers (information for 2011 not available yet).
So while the number of recalls may be trending down, the rising number of emergency room visits is troubling. Should the label of "safer" be applied based on the number of recalls, or the number of injuries? You make the call.