For one reason or another, a lot of people are wondering if they should upgrade to Mac OS X Mavericks. To some, upgrading their operating system is a security or performance concern, others just wonder if it's even worth the effort.
OS X Mavericks (v. 10.9) was released in October of 2013. It is the tenth major release of Apple's OS X desktop and server operating system built for its line of Mac computers.
What's New in Mavericks
In terms of visual appearance, OS X has changed very little since the introduction of OS X Leopard (v. 10.5). Folders, menus, icons, the dock, etcetera, all look more or less the same in Mavericks.
This means that the move to Mavericks would be purely for its new features and supposed performance boosts.
Mavericks has adopted a few new apps, which originated in iOS (Apple's mobile operating system). These include iBooks and Maps. If you are currently running OS X Lion or below, upgrading to Mavericks will also bring in Notes and Reminders.
Finder also received tabs and tags, the Apple menu bar received a desktop version of Notification Center.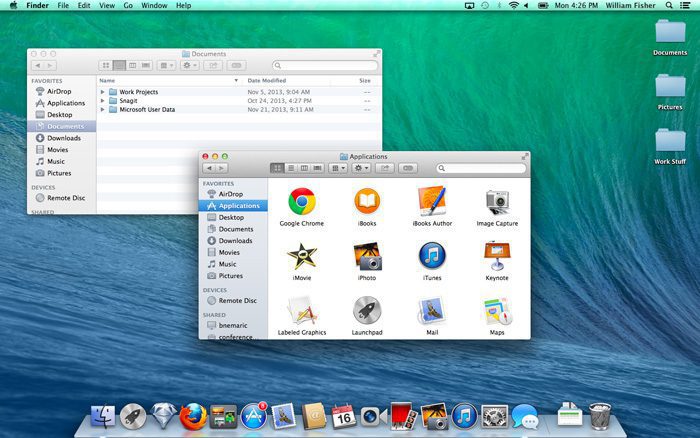 Besides these minor introductions, most of what has improved in Mavericks is very much 'under-the-hood'. The operating system is supposedly more energy-efficient, more secure, more accessible and more intuitive. However, these improvements have gone largely unnoticed by most users.
Inevitably, as is the case with any major software update, upgrading to Mavericks may also render older programs unusable as they may no longer be supported. In the past, this has included some of Apple's own programs, such as AppleWorks. This office suite was later replaced by iWork.
On the other hand, some (though very few) newer programs will require that a computer is running Mavericks. Over time, program updates will discontinue support for older operating systems, just as newer operating systems discontinue support for older programs and program versions.
[divider]
Is Mavericks Worth it?
As long as your computer meets the minimum system requirements for OS X Mavericks, upgrading will not cause your computer any harm. That said, many users suggest only installing Mavericks if your computer contains at least 4GB of RAM (system memory).
To check how much RAM your computer has, open the 'Apple' menu and click on 'About This Mac'. This will open a window that tells you how much memory is inside of your computer, as well as your processor type and what startup disk you are using.
There is one potential benefit to upgrading to Mavericks. Apple is set to release their next major OS, OS X Yosemite, this fall. Unlike Mavericks, Yosemite is going to include a massive design overhaul. Once Yosemite becomes available to download, Mavericks may become more difficult to acquire.
Anyone who does not desire a whole new look for their Mac (anyone not planning to upgrade to Yosemite) might wish to be running the latest operating system before Mavericks becomes unavailable. You can always upgrade to Yosemite later if you decide you like it.
Keep in mind, OS X Mavericks is a free upgrade and can be downloaded directly from the Mac App Store. If your computer supports Mavericks, then upgrading should not slow your computer down.
Just in case, it is always recommended that users back up their systems prior to upgrading. If something goes wrong, your computer can be restored from its backup.
[divider]
System Requirements for Running Mavericks
In order to install OS X Mavericks, you must possess one of the following Macs:
iMac (Mid-2007 or later)
MacBook (13-inch Aluminum, Late 2008 or 13-inch, Early 2009 or later)
MacBook Pro (13-inch, Mid-2009 or later),
MacBook Pro (15-inch or 17-inch, Mid/Late 2007 or later)
MacBook Air (Late 2008 or later)
Mac mini (Early 2009 or later)
Mac Pro (Early 2008 or later)
Xserve (Early 2009)
Your Mac must also be running one of the following operating systems at the time of installation:
OS X Mountain Lion
OS X Lion
OS X Snow Leopard v. 10.6.8
Additionally, your Mac must contain at least 2GB of RAM (4GB recommended) and at least 8GB of available hard drive space.
[divider]
Once again, OS X Mavericks can be downloaded from the Mac App Store. OS X Yosemite will be released this fall.
Additional questions or concerns? Post them in the comments section below.