You know what a PC is. You know what a laptop is. You're familiar with netbooks and tablets. But have you heard of the newest whizbang tech gadget… the Ultrabook?
Intel believes that Ultrabooks will be the next big thing… and quickly! They say Ultrabooks will account for 40% of the laptop market by next year.
Over on Intel's blog, Becky Emmett stated that Ultrabook are "…a tablet when you want it, a PC when you need it." The are described as being ultra thin laptop computers with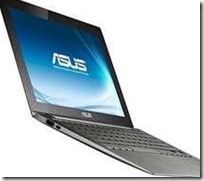 low-voltage processors that extend battery life to at least five hours.
Ultrabooks will feature superfast boot times using Intel's "Rapid-Start" technology. The first ultrabook with rapid start technology to ship will be the Asus UX21, pictured here, which may make its debut on the market as soon as next month.
Ultrabooks will also feature "Smart Connect", which Intel says will allow any running app to update itself, even if the Ultrabook is in sleep mode. For example, e-mail, Facebook, and Twitter, can all be updated while the computer is in sleep mode. The latest emails, tweets and Facebook statuses will be available as soon as the computer is woken up by the user.
Intel's goal is to keep Ultrabooks within a 'mainstream' pricing range – under $1000.
The Asus UX21 is expected to just squeak under that goal… at $999.