Ford is launching a recall of 2012 Ford Focus vehicles that were manufactured from Aug. 1, 2010, through Oct. 18, 2011. A total of 140,310 cars are affected be the recall.
The recall was initiated after Ford discovered problems with the windshield wiper wiring harness connector. Ford told the National Highway Traffic Safety Administration (NHTSA) that the passenger side wiring harness connector might be missing a seal.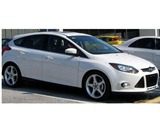 The lack of the seal can cause water or other contaminates to get into the connector and cause the passenger side wiper to stop working.
The recall is expected to begin on May 21, according to the company. Owners will be contacted and asked to bring their cars in for a free inspection. The wiring harness connector will be cleaned, inspected and replaced. The wiper motor will also be replaced at no charge if it is found to be damaged. Ford said that Ford Focus owners with questions about the recall could call their customer service line at 1-866-436-7332.