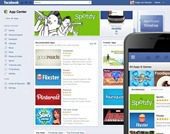 With the backdrop of a pending IPO, Facebook announced yesterday that they will be launching their own App Center. The App Center will provide information on iOS apps, Android apps, and web, mobile web, and desktop apps, that connect through Facebook.
"For the over 900 million people that use Facebook, the App Center will become the new, central place to find great apps like Draw Something, Pinterest, Spotify, Battle Pirates, Viddy, and Bubble Witch Saga, said Aaron Brady in a Facebook blog post aimed at Facebook app developers.
Facebook will provide app shoppers with detailed information about each app, including ratings and feedback, according to the post. Both free and paid apps will be available,
According to what Facebook has said about the program so far, it doesn't look like they have selling Android and Apple apps in mind. "If a mobile app requires installation, they [the Facebook user] will be sent to download the app from the App Store or Google Play," wrote Brady.  Facebook spokeswoman Malorie Lucich backed him up, saying "We're certainly not looking at it any competitive way."
Facebook will allow app developers to make and sell Facebook specific apps that don't require installation through the App Center though.
Brady did not provide a specific date regarding when the App Center will be opened. "In the coming weeks" is all he wrote when it comes to a launch timeframe.