Apple introduced the new iPad last Wednesday. They opened up preorders for the new tablet that same day, for delivery on March 16 –  the iPad's official launch date.
Just four days later, pre-orders for March 16 deliveries are sold out.
Now, according to the Apple store, shoppers can still preorder the iPad, but the ship by date is March 19.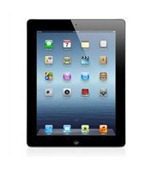 Note that not only the date has changed, but also the 'delivery on' (March 16) has been changed to 'ships by' (March 19). That means that pre-orders being taken now might not get to the shopper until five days (with 2 day shipping) after the new iPad becomes available in stores on March 16.
In a statement, Apple said:
"Customer response to the new iPad has been off the charts and the quantity available for pre-order has been purchased. Customers can continue to order online and receive an estimated delivery date."
If demand is so strong, this may lead to Apple fans lining up early at Apple brick and mortar stores next Friday, March 16. IPad owner wannabes that haven't already ordered may have to weigh standing in line early, versus pre-ordering now and receiving it five or more days after the launch date.
Apple's last big product launch was for their smartphone, the iPhone 4S. It sold out within hours of its launch. We may see a repeat of that with the new iPad.