Rovio is warning Angry Bird fans of a malware infected version of Angry Birds In Space. The fake version is said to be altered, but fully functional.
"As you get ready to pop pigs in zero gravity, watch out for fake versions of Angry Birds Space," said Rovio on their blog. Rovio is the company behind the popular app game.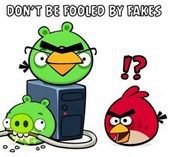 According to Mashable, the fake Angry Birds In Space, which contains malware programing that could take over a user's phone, had appeared on the Google Play store. It has apparently since been removed. The official version of Angry Birds In Space, from Rovio, was not affected.
According to the anti-virus outfit Sophos, the fake Angry Birds In Space contains a trojan called Andr/KongFu-L, which "uses the GingerBreak exploit to gain root access to the device, and install malicious code." That pretty much boils down to 'they have control of your device.'
At this point in time, there are no Andr/KongFu-L removal instructions published. Some sources, such as iJailBreak, are suggesting a complete factory data reset (after backing up needed data) if it's suspected the device has been infected with Andr/KongFu-L.