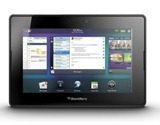 Research in Motion Ltd. (RIM) has announced they will be discontinuing the 16 GB version of their BlackBerry PlayBook tablet.
The BlackBerry PlayBook tablet was launched just over a year ago. Given its history, it's pretty amazing the tablet made it this long. After the PlayBook was launched, it quickly became apparent that RIM jumped the gun on its release. There were certain features, such as BlackBerry email and messaging, that the tablet couldn't handle on it's own. It required a bridge to a BlackBerry smartphone to work.
No problem, according to RIM. An update to add these features would be ready within sixty days (did no one in the company suggest they just hold off on the launch until it was ready?). Sixty days later though, and the update wasn't ready. The update was postponed, and then postponed again.
In the meantime, PlayBook tablets backed up on store shelves. Tablet prices took an unexpected turn south with the HP TouchPad fire sale. The price of the PlayBook was drastically reduced. RIM's CEOs were fired.
Finally, ten months after it launched, the PlayBook was updated to include the things that many of us thought it should have had in the first place.
Considering all that… and keeping in mind that while all that was happening, Apple, Amazon and even Barnes & Noble came out with new, popular, tablets geared toward the masses… is it any wonder that the PlayBook did not sell well?
The surprising thing here is that RIM is not completely throwing in the towel. The struggling company will continue to produce and sell the 32 GB and 64 GB versions of the PlayBook, according to an email RIM sent to the media yesterday.
The discontinued 16 GB version retails at $199. The 32 GB version at $249. And the 64 GB version retails at $299.
Reports indicate that RIM has a big, overstocked, inventory of the 16 GB version on their hands. Will they hold a fire sale, ala HP, to clear them out?
We will keep an eye on this and let you know.