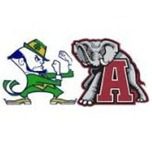 Tonight's 2013 BCS National Championship between Notre Dame and Alabama is set for an 8:30pm (ET) kickoff time and will be broadcast live on ESPN from the Orange Bowl in Miami, Florida.
The Notre Dame Fighting Irish are current ranked number one in the BCS, Coaches and AP polls. Under head coach Brian Kelly, the Irish have gone 12 -1 this season. An impressive feat with a freshman quarterback, Everett Golson.
The Alabama Crimson Tide,  ranked second in all three polls, has gone 12-1 this season. They are led by coach Nick Saban and junior quarterback "AJ" McCarron, Jr. The Crimson Tide won the won last year's BCS Championship.
The odds on favorite? At publication time, Alabama.
ESPN has set up several options for watching the game this year. Along with the live TV broadcast, they will also provide live streaming online through WatchESPN.com
WatchESPN, and their supported apps for Android, Apple and Xbox, are free to viewers who receive ESPN as part of their TV subscription from one of the following providers: Bright House Networks, Bright House Networks (Xbox), Cablevision – Optimum, Comcast XFINITY, Cox, Midcontinent Communications, Time Warner Cable, Time Warner Cable (Xbox), or Verizon FIOS.
The BCS National Championship will also be available through ESPN3 in a limited number of states: California, Nevada, Oregon, Washington, Alaska, Hawaii, and parts of Idaho, to viewers using a participating high speed internet provider (list).
ESPN's official pregame coverage starts at 8pm. ESPN's College Gameday, which will, of course, also feature lots of pregame coverage, starts at 6pm.
Are you planning to tune in online via streaming? Tell us what you think of the online streaming and app access using the comment section below!